Oceanica Resort Seychelles
People go on holidays for evident but still various reasons, and they do this in different concepts. Some travelers wish to have just a relax with a minimum of activity, while others are ready to run and to explore the new area already after an hour and a half after the landing. There are so many nuances, and therefore, it often seems impossible to create a hotel that would suit to everybody. However, let us keep in mind that exceptions from any rule exist.

Beach holidays have great effect, charging the internal battery seasoned with vitamin D for a long time. Seychelles islands contain such a number of benefits that are difficult to find in any other tropical country: perfect weather all year round, outside temperature rarely drops below 24 °C and rises above 32 °C, warm azure ocean, amazing nature, no mass tourism, safety, leisure variability and much more.

At first glance, the choice of accommodation options seems to be wide. However, if you dive into a detailed study, it turns out that the combination of all the desired factors in one place is rare.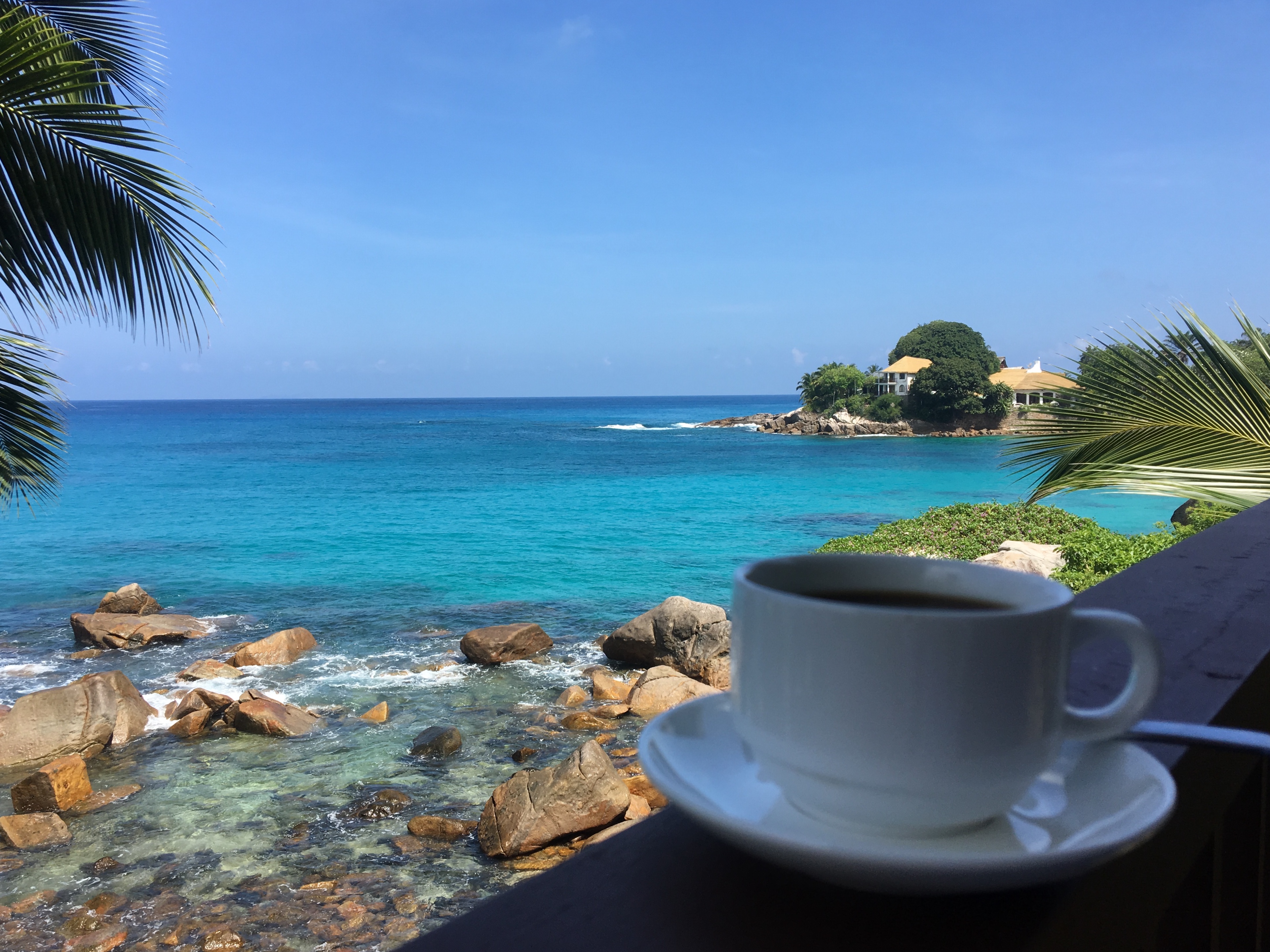 When planning a vacation, every tourist wants a convenient, quiet location of the hotel at the same time being close to the infrastructure; beautifully and modernly equipped rooms; good cuisine and service; attention of the staff; good reviews. And all this should be at a reasonable rate, especially if a large group of friends or big family is traveling. In many hotels, there are limits on the room capacity (for example, a maximum of 2 + 1 or 2 + 2 per room) meaning that several rooms have to be booked and it significantly increases the budget of the trip.

Almost every tourist wants to have a beautiful ocean view from the room, not overlooking the garden, parking or the wall of the neighboring hotel. But very often in purpose to save money the travelers book the room of basic category with no desired view.

And what if we open the secret and tell you that there is a hotel in the Seychelles unites all the above criteria, and you do not need to sacrifice a panoramic view? All this is possible and even at friendly rates which are not doubled during Christmas or other peak seasons.

1. In Oceanica Resort Seychelles there are two terraces: on the ground floor next to the living room and on the upper floor at the main bedroom. You will enjoy the most breathtaking sunsets, panoramic ocean view stretching from Sunset Beach (the most «postcard» beach on Mahe island and one of the best in the Seychelles) to famous Beau Vallon. Furthermore, you will see Silhouette and North islands on the horizon. Be sure that your camera has enough space at memory card!

2. In the Seychelles, there are many hotels of categories 2, 3, 4 and 5 stars, located on the beach. However, in the majority of cases, rooms / villas are located in the recess of the hotel, and they do not have a view or access to the ocean. Or even if such option exists – usually these are the most expensive categories. In Oceanica Resort ocean view is direct and panoramic.
Thanks to this rare advantage (even by Seychelles standards!), you can listen and contemplate the ocean 24/7, sleep under the sound of waves, turn off the air conditioning and breathe fresh air. However, if you want the ocean to be near, but you want to be more away from the waves – you may choose the villa located on the second line.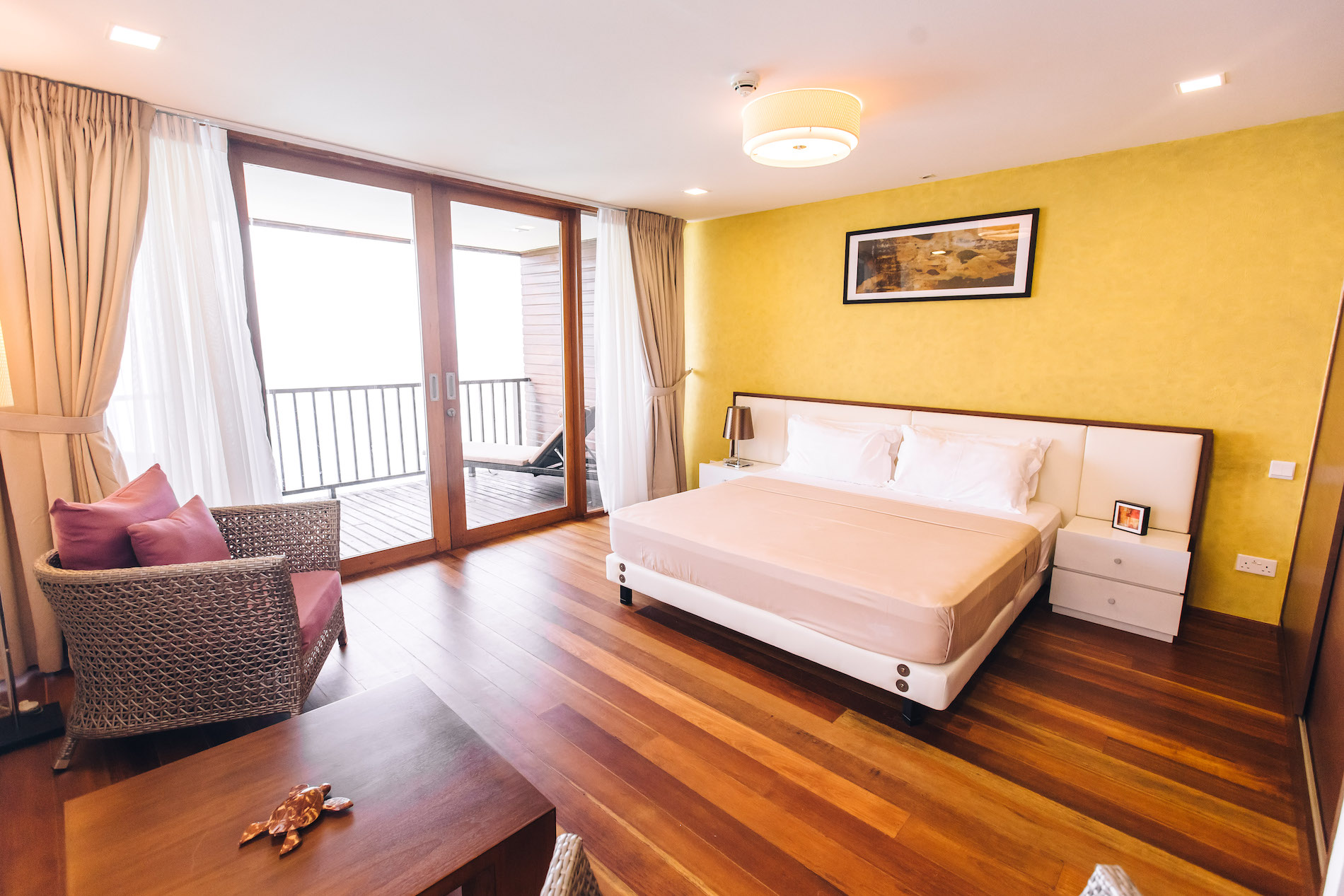 3. At Oceanica everything is created for beach holidays: the nearest Sunset Beach is just 2 minutes walk. The famous Beau Vallon is 3 minutes drive. There is a series of small private bays, very a la Seychelles style, where you will be completely alone. Every day you can choose a new beach to visit and not being limited to stay at one place.

The guests enjoy a great snorkeling just a few steps from the villa; 21 meter infinity pool with beautiful lighting where it's pleasant to spend time after sunset. By the way, in many hotels it is forbidden to use the pool area after 07-08 pm. In our case, there is no such restriction for the guests.
We recommend to rent a car with a driver or independently and to explore Mahe – the main island of Seychelles. Even the locals say that they do not become tired of being surprised at the newly discovered beautiful places at native island.
4. In Oceanica Resort, all rooms are not just hotel rooms, but detached villas of 120 and 150 sq.m. (2 and 4 bedrooms), very modern, spacious, fully equipped, with a well-planned layout and attention to every detail. Federico Fellini believed that lighting in the interior plays almost the main role – it not only fills the darkest corners with light, but also creates the desired atmosphere, emphasizes style and places accents correctly. Do an experiment with the menu of light at Oceanica and check it yourself if you haven't paid special attention to this detail before.

The villas are perfect for various number of travelers, and it will suit couples, large families and companies of friends, business travelers and those who are looking for complete solitude.

It is important to mention that everything was built with the highest quality and environmentally friendly materials.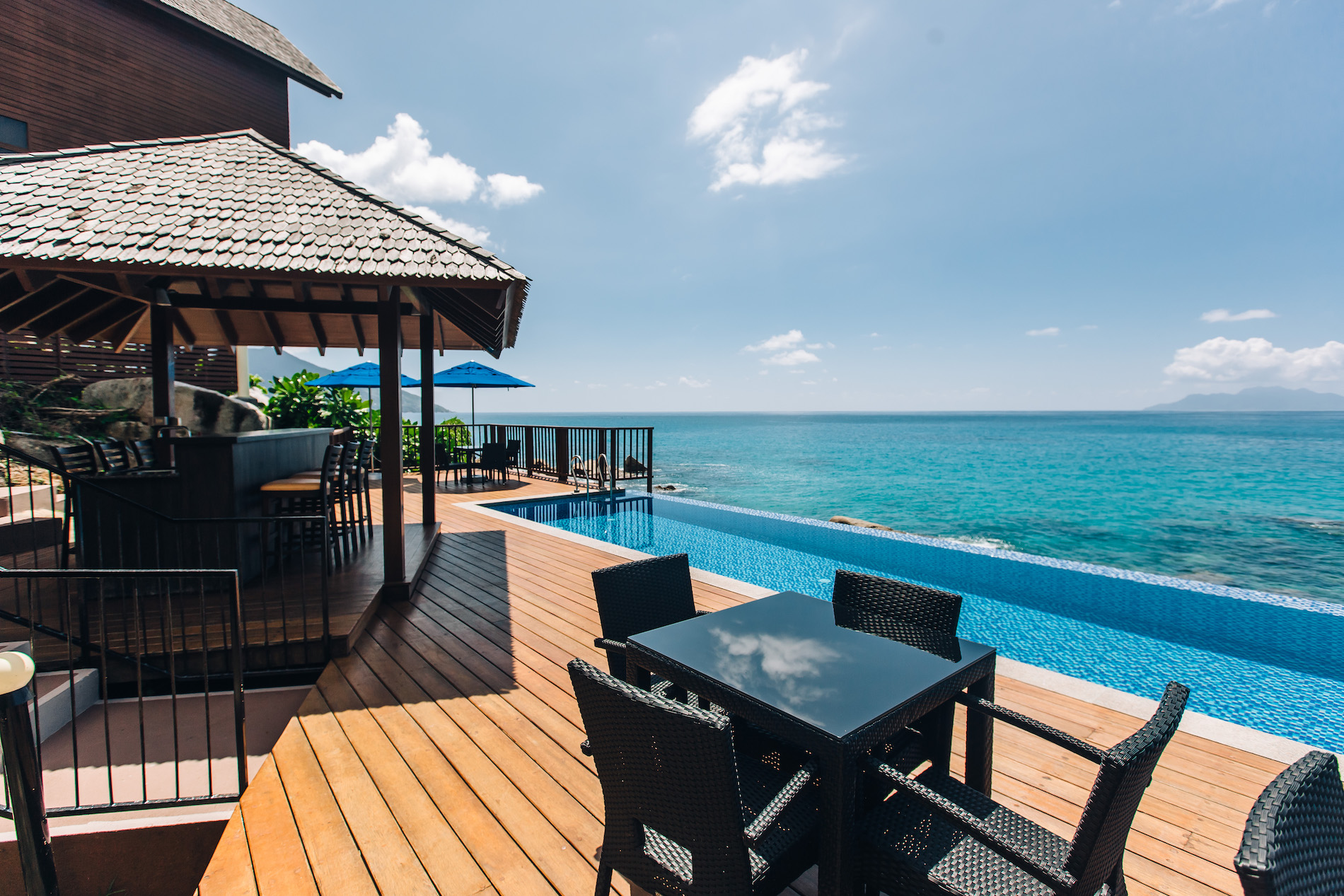 5. The Internet. And at this point, the preferences of tourists differ. Someone wants to arrange a digital detoxification and to be completely disconnected from the network. However, there are business travelers, for whom it is important to stay in touch 24/7 and quickly resolve business issues without spending a lot of time waiting for web pages to load. Those who know the specifics of the Internet on the islands, will understand what we mean. Oceanica Resort Seychelles provides great wi fi.
6. Food and cuisine. In this point there is also a maximum number of options. You can cook yourself – the kitchen is fully equipped; the breakfast can be added on request, the same is related to lunch and dinners. All meals are supplied by Hilton Northolme 5 * exclusively for Oceanica.Or you can invite a cook to your villa!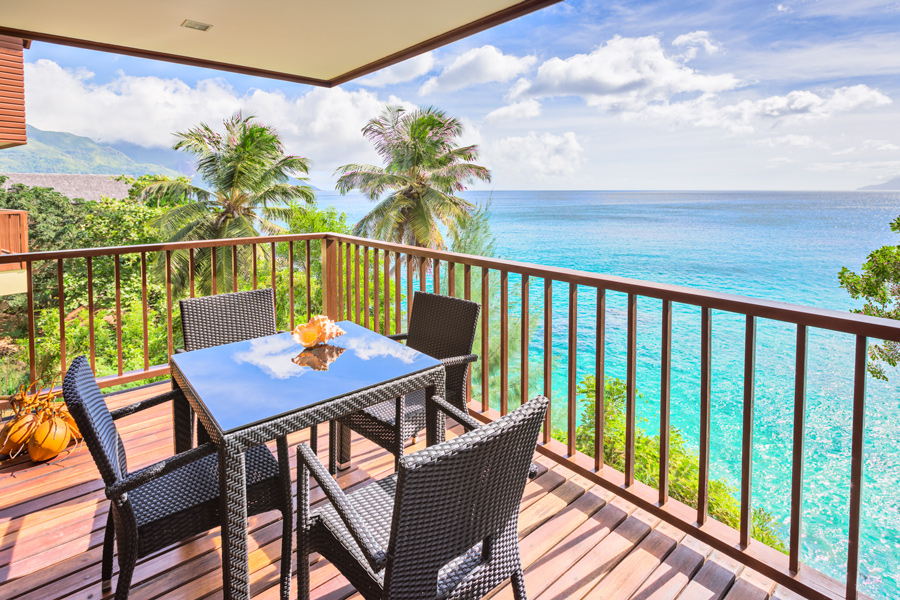 7. It is difficult to find a person indifferent to security. Here its level is the best on the island. Only hotel guests have access to the territory, random people do not appear.The territory of the resort is well-planned and thought out, while paying attention to the preservation of nature.

8. The staff is the greatest value at any hotel. Attentiveness, responsiveness, ability to solve non-standard tasks, sincere attitudes to the job are not so often found even in luxury resorts. Here we can put the highest score. This is noted by repeater tourists who know Seychelles well and who have been staying in various five-star hotels. They have a solid experience to shape such a conclusion.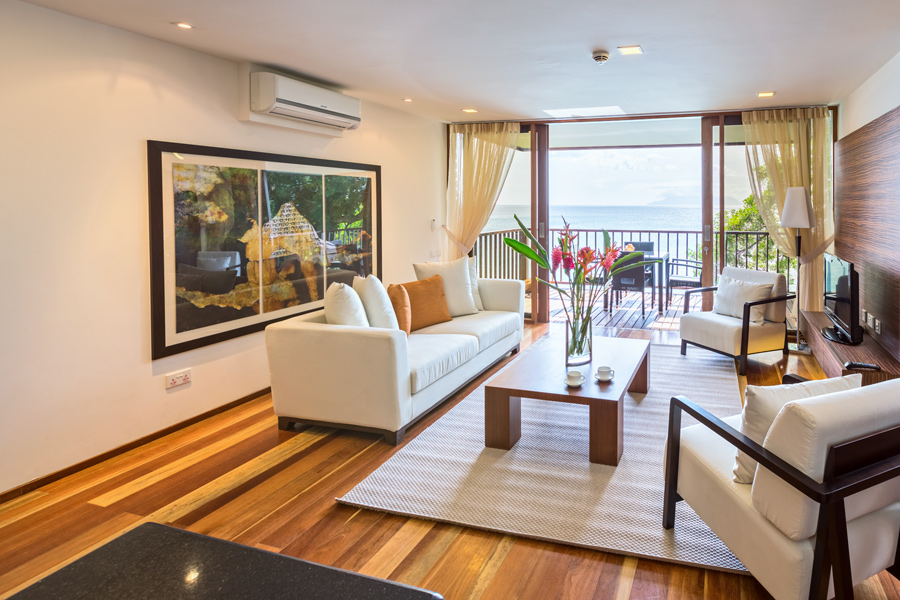 Oceanica Resort Seychelles is a rare combination of quality, location, service and rates in the Seychelles. We wish to write much more about this hotel, but it is better to see and to check it on your own eyes.

The only recommendation is to book your stay in advance: at least 2-3 months before check in for the stay in usual season and 5-6 months before peak dates start.

Please do not hesitate to contact me if you have any questions about Oceanica Resort Seychelles , if you with to book accommodation or to share your opinion about Seychelles.